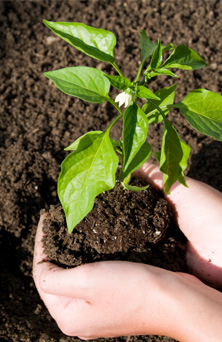 projects and services
montgomery county
gude landfill gas-to-energy facility
THIS PROJECT CEASED OPERATION JUNE 30, 2017.
In December 2007, the Montgomery County Department of Environmental Protection (DEP) teamed with the Northeast Maryland Waste Disposal Authority (NMWDA) and its engineering contractor, C B & I to design/build/operate two landfill gas-to-energy facilities at the Oaks and Gude Landfills. Design and permitting were completed within one year after seven months of construction and start-up testing; the two beneficial use facilities that collectively generate 3.2 Megawatts (MW) of electricity came online in late June 2009 and are continuously producing "green" energy!
The Basics – During operation and closure, a landfill will generate various gases, including methane via waste decomposition. Under the Resource Conservation and Recovery Act (RCRA), solid waste management facilities are required to control the migration of landfill gas, primarily due to the explosive potential of methane. As a point of reference, natural gas typically consists of 90 percent methane, whereas landfill gas ranges from 40-50 percent methane.
The gases generated by waste decomposition are collected through a network of vertical and horizontal pipes, which are connected to a blower (e.g. fan) that exerts a negative pressure on the landfill. The blower draws the gas to a Flare Station for flame burning (no energy value) or to a gas-to-energy facility where the gas is burned in an internal combustion engine that will turn generators and subsequently produce electricity.
The Facility – The Gude Landfill is approximately 100 acres and is located at 600 E. Gude Drive in Rockville, MD. Previously, from 1985 to 2006, a gas-to-energy facility operated on the Gude site that initially generated 2.7 MW of electricity. The new gas-to-energy facility utilizes approximately 300 scfm of gas in a single Jenbacher GS 316 (see above photo) and the remainder of gas is burned in the existing enclosed stack flares. The single engine with support equipment (pretreatment skid, transformers, switchgear, etc.) generates and transmits approximately 0.8 MW of electricity, as well as renewable energy credits (RECs).
The Green Aspects – The Gude Landfill Gas-to-Energy Facility will produce enough electricity to power approximately 500 homes year round. Estimated environmental offsets from the Gude Landfill Gas-to-Energy Facility include the reduction of approximately 1790* tons of methane emissions and 4,560* tons of CO2 emissions with respect to diverting power generation from coal-burning power plants. This is equivalent to planting approximately 7,600 acres of trees or taking more than 6,800 cars off the roads. The environmental offsets from the Oaks Landfill Gas-to-Energy Facility will be three-fold as it produces three times the amount of electricity.
* Estimate based on EPA Landfill Methane Outreach Program calculator.