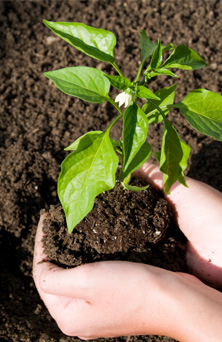 projects and services
howard county
new cut road landfill solar energy project
The Howard County New Cut Road Landfill/Worthington Elementary School Solar Energy Project began when the County Executive and the Howard County Department of Public Works tasked the Northeast Maryland Waste Disposal Authority with developing and issuing a Request for Proposals (RFP) for solar energy development at the New Cut Road Landfill.  The RFP was issued to select and contract with a qualified vendor for the design, engineering, financing, construction, operation and maintenance of a solar array (Solar Project) to provide power to the Worthington Elementary School (School). The County offered approximately five (5) acres on the top of the closed landfill. The Authority received a SunBurst grant for the Solar Project from the Maryland Energy Administration.  This grant reduced the overall cost of the project.
SunEdison was contracted to design, build and maintain the solar panels. Permits were issued for the project in August of 2011 and construction began in early September of 2011.  The array was substantially complete in November of 2011 with final operations approval in December of 2011.
The solar project is comprised of 1,908 solar panels on metal girders attached to recycled plastic tubs.  These tubs sit on top of the landfill and do not penetrate the protective soil cover.  Stone fill is used as ballast for the tubs. SunEdison provided solar curricula for the Howard County Board of Education to use during classroom discussions of environmental sustainability and renewable energy.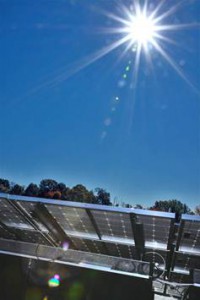 Photo Credit to R. Scott Kramer, Photographer/Multimedia Specialist
Office of Public Information, Howard County Government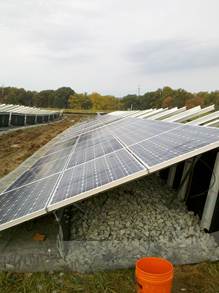 Profile of the solar panels mounted on the ballasted tubs.  Erosion controls were built into each row of tubs.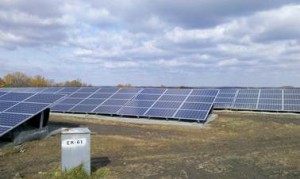 Acknowledgement: "This material is based upon work supported by the Department of Energy under Award Number DE-EE0000097."
Disclaimer: "This webpage was prepared as an account of work sponsored by an agency of the United States Government. Neither the United States Government nor any agency thereof, nor any of their employees, makes any warranty, express or implied, or assumes any legal liability or responsibility for the accuracy, completeness, or usefulness or any information, apparatus, product, or process disclosed, or represents that its use would not infringe privately owned rights. Reference herein to any specific commercial product, process, or service by trade name, trademark, manufacturer, or otherwise does not necessarily constitute or imply its endorsement, recommendation, or favoring by the United States Government or any agency thereof. The views and opinions of authors expressed herein do not necessarily state or reflect those of the United States Government or any agency thereof."