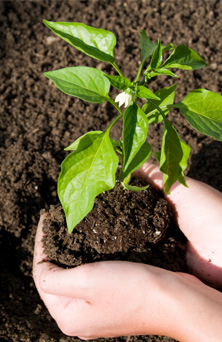 projects and services
baltimore city composting facility
The Baltimore City Composting Facility has been an integral component of biosolids management for the City of Baltimore since 1988. The facility is operated through a partnership between the Authority, Baltimore City and Veolia Water North America. To date, the facility has processed over 650,000 dewatered tons (wet tons) of biosolids and has produced in excess of 825,000 cubic yards of Exceptional Quality, Orgro® High Organic Compost. With a design capability of 210 wet tons per day, and a minimum processing time of 44 days, the in-vessel process ensures a Class A product can be put to market. Processed biosolids are received from Baltimore City's Back River Waste Water Treatment Plant and mixed with wood amendments, which provide a carbon source for the composting process and act as a bulking agent to ensure thorough composting. The mixed material is placed into a "cell" in the composting reactor and is computer monitored for oxygen, moisture and temperature through the 14-day initial phase of composting. During this initial phase, the mixture is turned to provide additional aeration and ensure the uniformity of the product.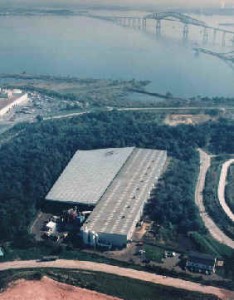 The composted material is then moved outside for additional curing to meet Federal pathogen and vector-attraction reduction requirements. The final step for the mature compost is screening to provide a fine, homogenous material that is sold for use on golf courses, athletic surfaces and the lawn of the residence of the Vice President of the United States. The facility has been recognized for excellence in operation (2001 OpEx Award from US Filter) and has hosted several tours (Institute for Public-Private Partnerships and the Water Environment Federation). The facility staff has also conducted tours for environmental engineering students from The John Hopkins University and participants in the University of Maryland's Better Composting School.
To learn more about the Baltimore Compost Facility, please contact the Authority at 410.333.2730 or email authority@nmwda.org.
To purchase Orgro® High Organic Compost click here or call 410.354.1636.
For a tour of the facility, please contact Tom Fantom at 410.354.1636.
Operations Overview
 Year
    Biosolids Received
(Wet Tons)
    Compost to Market
(Cubic Yards)
1997
46,139
86,169
1998
44,213
84,202
1999
43,562
79,264
2000
44,363
72,208
2001
43,117
72,000
2002
43,873
62,269
2003
44,738
64,467
2004
45,334
73,575
2005
46,439
66,356
2006
44,230
66,390
2007
44,510
66,368
2008
32,516
64,463
2009
29,297
39,830
2010
29,107
44,305
2011
28,038
33,968
2012
29,240
34,529
2013
27,491
33,729
2014
30,254
31,551
2015
33,537
34,469
2016
31,319
33,739